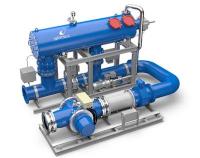 The Wärtsilä AQUARIUS READY solution is a phased process that enables cost savings and installation flexibility for ship owners preparing their vessels for ballast water treatment regulatory compliance. Having Wärtsilä as a single point of contact between the yard and the different authorities is another significant benefit for the owners.
Two Ro-Ro ferries owned by UK based Condor Ferries are to be retrofitted with Wärtsilä's new AQUARIUS READY ballast water management system (BWMS) solution. The AQUARIUS READY concept has been developed by Wärtsilä to prepare vessels for the fitting of BWMS, while minimising vessel downtime, thereby enabling more efficient operations.
The contract was signed in February 2014 and the final equipment delivery will take place within 12 months from the ratification of the IMO Ballast Water Convention.
Preparation work has already been undertaken onboard the ferries. This includes making the required connections to the main ballast line, installing the bypass and isolating valves, preparing the space needed, and carrying out the foundation work. These tasks were carried out when the vessels were dry-docked. The actual equipment installation and commissioning will take place at a time convenient to the owners following ratification of the IMO Convention.