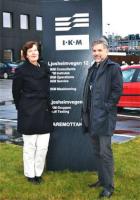 IKM Consultants will provide contracted multi discipline personnel to Statoil's international operations and projects over the next 2.5 years.
This new frame agreement with Statoil is valid from 15.12.2013 and has a duration of 2.5 years, plus an option for two + two years, in total duration of 6.5 years .
The contract is valid for Statoil's international locations and facilities, and covers both Statoil's project portfolio abroad and their international operations.
The agreement comes on top of a number of attractive agreements for IKM Consultants.
"The agreement creates great development opportunities in the international market, for IKM Consultants and our skilled staff", says Managing Director of IKM Consultants, Per Oscar Knudsen.
"We welcome the recognition that this framework agreement provides and we see this as a confirmation that our extensive supply of personnel for Statoil in Norway is successful and that Statoil has confidence in IKM Consultants and the IKM Group's international expansion" he says.