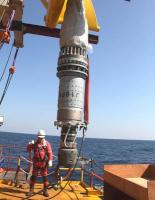 Precision rubber moulding specialist, Metflex Ltd announces a new range of high performance rubbers designed specifically for demanding subsea applications. Called MetflexSubsea NRX, the API 17 compliant, natural rubber materials are available as moulded shapes for pipeline pigging connectors, protective shielding for HPHT pipelines, and riser and umbilical connection systems.
Natural rubber has many advantages over other materials subsea - very high tensile strength, resilience and ability to absorb dynamic stresses, and abrasion resistance.
The NRX rubbers offer temperature resistance in the range -50 to +80 degrees centigrade, 67-73 Shore hardness and compression set up to 14%. In large rubber blocks where greater stiffness is needed, Metflex is able to supply mouldings containing single and multiple metal inserts.
"The NRX range of rubber materials are the result of a three year subsea rubber development programme working closely with the offshore industry," says Steve Parry, director of development, Metflex Ltd. "These new rubber grades are designed to assist engineers in meeting the challenges of long term water immersion, robust handling and rigours of subsea deployment."