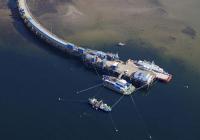 Tekmar Energy, which supplies cable protection systems (CPS) to the offshore windfarm industry, has successfully carried out a full-scale demonstration of its products at The Underwater Centre, the subsea training and trials facility based in Fort William.
The objective of the demonstration was to prove the ability to rapidly and reliably remove a CPS without the need for divers. This is particularly key for the future as offshore windfarm projects are being installed in increasingly deeper waters where diving becomes more dangerous and costly.
With numerous offshore wind industry leaders in attendance – including DONG Energy, VBMS, Jan de Nul, and CWIND – Tekmar and The Underwater Centre carried out the installation and removal of a CPS from mock-up offshore foundations.
Cable protection systems are designed to be maintenance free for the full service life of the windfarm. However, for decommissioning purposes and in order to reduce risk within the industry it is important that any equipment that is installed subsea has a proven and robust method of removal.
The Underwater Centre provided a Workclass Remotely Operated Vehicle (WCROV) which was launched from an offshore vessel and carried out the operations in Loch Linnhe.
The demonstrations were carried out over a two day period in March 2016. On the first day the removal operation was performed on a mock-up j-tubeless monopile foundation, whereas the second day was reserved to carry out the same operation on a mock-up j-tube. Both demonstrations were considered successful with operations being completed considerably quicker than expected.
Steve Ham, Commercial Director of The Underwater Centre, says. "In today's market, it's increasingly important that new technologies and techniques are developed more quickly, and in a cost effective way; the facilities we have on offer at the Centre help achieve this by providing an alternative to having to test offshore."
Jack Simpson, Senior Manager for Offshore Wind at Tekmar says, "We were impressed with the extensive and realistic set up that the Underwater Centre provided. The equipment and conditions were fully representative to what would be expected offshore and the team there were extremely knowledgeable and supportive of the operations."