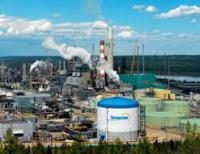 Suncor Energy regretfully reports an employee was the victim of a bear attack this afternoon at our Oil Sands base plant approximately 25 kilometres north of Fort McMurray. The employee was pronounced deceased on the scene.
The RCMP along with Alberta Environment and Sustainable Resource Development (AESRD) - Fish and Wildlife Division responded to the scene and the animal was put down.
"We are shocked by this very unusual incident and there are no words to express the tragedy of this situation. Our thoughts and prayers go out to family, friends and co-workers," said Mark Little, Suncor executive vice president, Upstream. "All of us need to focus on personal safety and I would urge everyone to be extremely vigilant in dealing with wildlife."