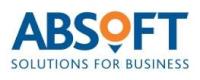 Achieving improvements in supply chain optimisation, through better inventory management and process best-practice, will be analysed by decision makers from major operators, drilling providers and the diverse oilfield services marketplace at an event in Aberdeen this month.
Absoft, an independent provider of SAP systems and consultancy for the upstream oil and gas sector, is hosting the forum event on Thursday, November 27.
It will focus on prevention of 'stock piling' and 'stock out' issues, reducing direct and indirect inventory costs, delivering effective equipment tracking solutions and increasing availability of equipment for remote operations.
Calum Davidson, program manager at Subsea 7's global SAP team, will discuss equipment and tool management systems (ETM), and Björn Harzer, solutions architect at Absoft, will focus on operational cost reduction with effective inventory management.
The forum encourages discussions among industry peers, centred on shared procurement, inventory and logistics challenges and how SAP software can optimise performance and reduce operational costs.