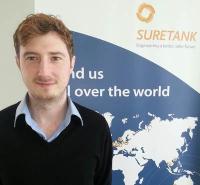 Suretank has appointed Paul McNicholas to the position of Mexico Sales Manager.
Having strengthened links with the region by welcoming the Mexican Ambassador to Suretank's HQ in 2014, this new position provides a ful time sales presence in the region to support the developments in the region.
Paul McNicholas has a strong background in oil and gas and the Mexican region having been instrumental in the successful entry of other exploration and production businesses to Mexico.
Speaking of Paul's appointment, Chief Executive John Fitzgerald said: "We were looking for an individual with a good understanding of the industry in Mexico as well as a well developed network of existing contacts. Paul brings both of these attributes as well as a range of other skills and traits that makes him a great fit for Suretank.
"We are excited about his appointment and the opportunity it gives our customer base through having a full time local point of contact."