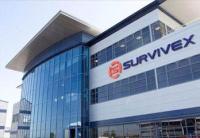 Training provider Survivex has developed a customised safety service package for global oil and gas company, Nexen Petroleum UK Ltd.
Handled by the Survivex service line Rigex, the package included the creation and delivery of a bespoke LOLER Responsible Person training course and the production of safety media for issue to personnel as reference materials.
The course was developed specifically for those required to authorise lifting plans and focussed on active learning with plenty of hands-on exercises. The safety media included pocket-sized flip cards providing instructions for lifting equipment inspection, as well as both safety posters and handbooks.