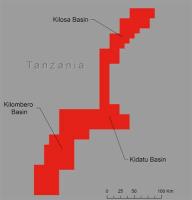 Swala Energy Limited has commenced its 2014 2D seismic data acquisition programme over the Moshi Basin located within the Pangani exploration licence in northern Tanzania.
Swala Oil and Gas (Tanzania) Plc ('Swala Tanzania'), partly owned by Swala Energy Limited, and its Joint Venture partner Otto Energy Limited will acquire approximately 200km of 2D seismic data over the basin in the next four weeks and that data will be processed as the survey progresses.
This seismic survey is a follow-up to the successful programme carried out in the basin in 2013 where results indicated a sedimentary basin of about 3,000m in thickness. Once the survey in the Moshi basin is complete seismic operations will move to the Kilombero basin where a further 430km of 2D data will be acquired.