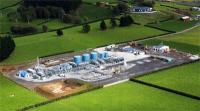 TAG Oil Ltd. has resumed the development, appraisal and step-out drilling, and field optimization at the Company's Taranaki oil and gas fields. Located in the main production fairway of the Taranaki Basin on the North Island, New Zealand, TAG is pursuing significant reserve growth through developing and exploiting its lightly explored discovery acreage in the shallow and high impact deep formations.
TAG anticipates that this next wave of low risk development work — focused on oil production growth in the proven Mt. Messenger (~2000m) and Urenui (~1400m) Formations — provides considerable potential for the Company to increase its high netback oil production and add new reserves for many years ahead.
As at March 31, 2014, TAG had a proved and probable reserve base in the Mt. Messenger and Urenui Formations of 5.9 million barrels of oil equivalent and approximately 477 bcf & 45 mmbls of undiscovered resource potential identified in Taranaki.(1). In October, 2014 TAG achieved record monthly production of 1,990 BOE (76% oil) per day.