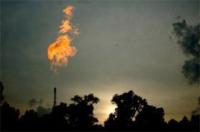 US-focused oil and gas producer Target Energy Limited provide an operations update on its Fairway Project in the Permian Basin, West Texas.
Sydney #2
On 10 December 2013, Target announced that it had encountered a Fusselman reservoir in its Sydney #2 well which appears thicker and possessing better reservoir properties than the nearby producing well, Sydney #1. Well log analysis has provided further indications that the Fusselman reservoir present in Sydney #2 could be very productive. Preparations for the completion of the Sydney #2 well are complete with perforation and flow testing of the Fusselman formation expected to take place next week.
Wagga Wagga #1
The Fairway Project partners designed the well completion program in December 2013 but were unable to effect the completion due to poor weather (note below). Completion procedures at Wagga Wagga #1 are now expected to commence after the Sydney #2 program. Initial testing will be on the deeper Ellenburger and Fusselman/Devonian sections.