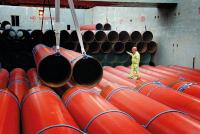 Tata Steel is celebrating after becoming the first company to manufacture a SAWL (submerged arc welded longitudinal) line pipe installed through reeling method in the North Sea.
Manufactured at Tata Steel's Hartlepool 42" UOE mill, the pipe was developed as a bespoke order for an international energy company which required an urgent replacement pipeline.
Working closely with the end client and lay contractor from an early stage, the project had a demanding specification which provided a new challenge for all parties.
Tata Steel used some of the best pipe plate available to produce a product which both increased the maximum thickness of pipe that can be produced for a 406.4mm (16") pipe, and re-established the reelability of SAWL pipe.
Due to the success the product is now being launched into the wider market.
Martin Connelly, Tata Steel's technical manager, said: "This project was a huge success for Tata Steel and there were key features to this achievement. Firstly, at 22.2mm, the size represented the thickest 406.4mm (16") outside diameter (OD) SAWL pipe delivered by Tata Steel and secondly the thickness was originally outwith the capacity of the 42" UOE mill until this project.