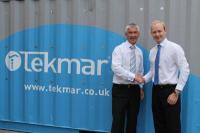 Tekmar Energy has bolstered its senior management team with the appointment of a new chairman.
High profile industry figure Ally MacDonald takes up the post. With 25 years' experience in the oil and gas industry and a background in engineering, Mr MacDonald brings a wealth of knowledge to the role where he will help to further drive forward Tekmar's business growth.
He joins Tekmar after five years of executive management positions at Wellstream, which was acquired by GE Oil & Gas during 2011. Prior to that, Mr MacDonald spent 19 years with Technip and was Managing Director of their DUCO umbilicals business. An engineer by trade, he graduated with an honours degree in mechanical engineering.
Mr MacDonald said: "It is an attractive challenge to be joining an ambitious company which, through its industry-leading technology and established track record, has significant opportunities to continue to expand and evolve. The company has enjoyed an exceptional growth story to date and I look forward to helping to build on this success and further develop the business."