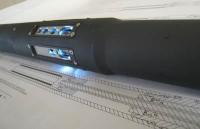 Tendeka is celebrating after winning the Innovator award at Offshore Achievement Awards held at the Aberdeen Exhibition and Conference Centre (AECC).
Tendeka's FloSure™ Autonomous Inflow Control Device (AICD) scooped the prize for innovation, proving it can help operators overcome the technological challenges of early water and gas breakthrough.
FloSure™ AICDs behave like passive ICDs before water/gas breakthrough, giving a predetermined pressure drop between the reservoir and the completion liner. However, after water or gas breakthrough the device preferentially chokes unwanted produced fluids whilst promoting production of oil from the entire length of a horizontal well drilled in a reservoir. There are currently over 5,000 FloSureTM AICD units successfully installed worldwide.