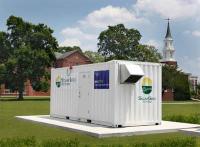 TerraForm Global, Inc. says that its wholly-owned indirect subsidiary, TerraForm Global Operating, LLC (the "Issuer"), intends to offer, in a private transaction, up to $800 million aggregate principal amount of senior notes due 2022 (the "Notes"). The offering is subject to market conditions and other factors.
The Notes will be senior unsecured obligations of the Issuer and on the issue date will be guaranteed by the Issuer's direct parent, TerraForm Global, LLC ("Global LLC"). Following the issue date, the Notes will be guaranteed by any domestic subsidiaries of Global LLC that guarantee the Issuer's revolving credit facility or any other material indebtedness. TerraForm Global will not guarantee the Notes.
The Issuer intends to use the net proceeds of the offering of the Notes to fund in whole or in part, renewable energy projects ("Eligible Green Projects"), which includes the financing or refinancing of, or investments in, equipment and systems which generate or facilitate the generation of energy from renewable sources, such as solar, wind and hydroelectric energy.