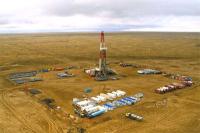 Tethys Petroleum Limited refers to its announcement dated July 13, 2015 confirming the approach made earlier that day by Nostrum Oil & Gas PLC to the board of directors of Tethys regarding a possible offer for the entire issued share capital of Tethys.
The Possible Offer would provide for a price of C$0.2185 per Tethys share, whether in cash or Nostrum shares or a combination of both, as determined by Nostrum. The Possible Offer is subject to various conditions, including, amongst other things, the completion of customary due diligence (satisfactory to Nostrum) including a site visit and is subject to approval from the board of directors of Nostrum.
The Board and management of Tethys believe that the current strategic collaboration with AGR Energy and US$47.7 million financing represents a transformational deal for Tethys that has the potential to add significant value for shareholders of Tethys. In addition, the Company is currently in a period of exclusivity with AGR Energy which is active until closing of the AGR Placing or, if earlier, termination of the subscription agreement with AGR Energy, all as previously announced on 1 July 2015.
Accordingly, having given due consideration to the Possible Offer, the Board has resolved not to pursue or engage in discussions with Nostrum.