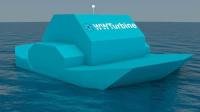 Vancouver-based Water Wall Turbine Inc. (WWT) has selected The Switch to provide a 500 kW full-power converter for its innovative self-floating power plant. This new commercially viable system extracts potential and kinetic energy from large, fast moving water currents for conversion into electric energy.
The Switch will supply its first 500 kW full-power converter in October 2014 for WWT's prototype project, which will be used for the Dent Island Resort, near Vancouver Island off the west coast of British Columbia, Canada. System testing of the integrated equipment is planned for the first quarter of 2015.
The vessel will power the resort, replacing existing diesel generators as the primary energy source, and is integrated with battery energy storage. The diesel generators will provide system backup. Additional 1 MW plants are being planned for other remote resorts and communities in British Columbia.