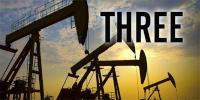 Three Forks, Inc. announced initial potential rates of 46 BOPD and 86 BOPD on two new wells on its Archer County, Texas, project.
The initial completion report (Form W-2) was filed with the Texas Railroad Commission at 46 BOPD and 139 BWPD on the G. A. Jennings "AA" #101 well and 86 BOPD and 10 BWPD on the G. A. Jennings "AA" #102 well. The two wells raise to five the total number of new wells producing on the Jennings lease, with initial oil sales having commenced in October 2013. The Company has filed drilling permits for five additional wells on the Jennings lease with drilling expected to commence later in the first quarter.
Three Forks has a 10% working interest in the Archer County Project with an additional 25% back in interest at payout.