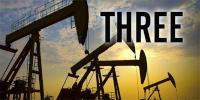 Three Forks, Inc. has signed an Exploration and Participation Agreement with Vanguard Natural Resources, LLC.
Under terms of the agreement, Three Forks is required to drill two wells before September 15, 2014, on Vanguard's leaseholds in Weld County, Colorado. The leaseholds cover 160 acres in a prolific oil producing area of the D-J Basin where Three Forks' operations team has extensive experience.
"Our team drilled five wells immediately offsetting this acreage in 2012," said Chuck Pollard, President of Three Forks. "Due to new fracture stimulation technology, all five of those wells exceeded production expectations with the wells averaging approximately 150 BOPD on initial test. We are excited at the prospect of drilling in Colorado again and are focused on making the D-J Basin a core operating area for Three Forks."