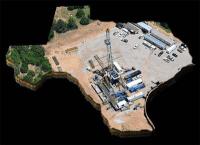 Torchlight Energy Resources, Inc. has entered into a farm-out agreement with PetroBridge Energy for the Johnson #4 well in its Marcelina Creek Project in Wilson County, TX.
The Johnson #4 well is a vertical well producing ~10 Bop/d from the Buda Formation. According to the agreement Torchlight will farm-out a 25% Working Interest in this wellbore in exchange for the cost of drilling and completion for two lateral legs targeting the Austin Chalk formation. The drilling of the new dual horizontal legs is scheduled to commence in the fourth quarter 2015.
'We are very excited about this agreement with PetroBridge and the continued development of our Marcelina Creek assets,' stated Will McAndrew III, COO of Torchlight.