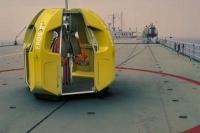 Reflex Marine has recently supplied the first production unit of the newly developed FROG-XT4, to Total E&P Nigeria Ltd.
The FROG-XT is an advancement of the company's industry-leading personnel transfer technologies and the product of more than twenty years of experience in the oil and gas industry.
An estimated one million safe crew transfers are carried out every year using the Reflex Marine's FROG and TORO devices.
The FROG-XT4 was developed in line with the industry's continued drive to improve the safety of its operations – a vision which Reflex Marine shares.