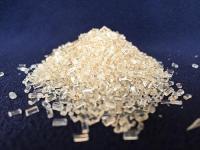 Total has just completed an industrial scale test run, following a series of pilot plant trials, demonstrating the feasibility of sustainable incorporation of about 20% of post-consumer recycled polystyrene within virgin polystyrene. The trial, which was carried out on an existing production asset, successfully led to product with properties equivalent to virgin polymer.
"Polystyrene is one of the easiest polymers to recycle," explains Jean Viallefont, Vice President Polymer Europe. "Our success highlights that polystyrene, which naturally provides outstanding performance for various applications, will be a significant contributor to the Circular Economy. It is unquestionably an innovative way to enlarge the accessible market for recycled polystyrene and to convert a large volume of post-consumer waste."
Based on this encouraging result, Total is launching new developments to manage contamination of recycled streams. The objective is to create a robust process in order to handle complex polystyrene waste streams that can be implemented on our different existing production lines.