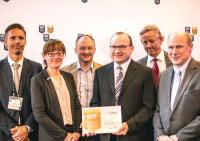 Discovery™ has won the first ever Underwater Technology Foundation (UTF) Subsea Project Award for Tracerco, part of the FTSE 100 Johnson Matthey Plc. This is the fourth industry award Discovery™ has collected in the last 18 months, beating a strong field of competing entrants.
The UTF award programme, which is open to both intra- and inter-company for operational subsea projects, recognises not only proven successful solutions to subsea industry challenges but also excellent project execution, innovation, increased efficiency, HSE and global commercial potential.
Discovery™ scans pipelines from the outside to gain an accurate CT image of the condition of the pipe and the nature of its contents, with no need to remove the protective coating and with no interruption to production. Discovery™ provides data on flow assurance issues and pipeline integrity, including pipe-in-pipe and bundle systems, with defect resolution down to 1mm.
Discovery™ is a game changer to the subsea pipeline industry. It delivers significant cost savings in inspection campaigns for both flow assurance and pipeline integrity. For example, it is extremely valuable to operators needing to validate fitness for continued operation in lifetime extension projects since the need to prepare the pipe for an inline inspection is avoided. Further savings are achieved due to the inspection taking place whilst the pipeline is fully operational meaning the operator does not incur any interruption to production and therefore no deferment of revenue.