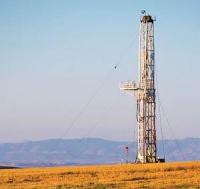 TransAtlantic Petroleum Ltd. announce its first successful completion in the Dadas interval at a vertical depth of approximately 9,650 feet in the Molla area of southeast Turkey.
TransAtlantic performed a single-stage vertical frac of the Dadas interval in its Bahar-6 well (100% working interest) over the weekend. The Dadas interval stimulated is approximately 640 feet above the Bedinan interval. The Dadas interval is geologically equivalent to the Woodford (SCOOP) or Marcellus formations in North America.
After stimulating the well with more than 1,800 barrels of fluid and 91,000 pounds of proppant, the isolated Dadas interval had stable, 24-hour initial production of approximately 800 barrels of 35 degree API oil and 500 MCF at 350 PSI on a 24/64" choke. The Company will flow the isolated Dadas interval for several days before commingling production with the Bedinan intervals and installing production equipment.