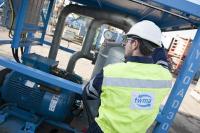 TWMA, provider of specialised drilling waste management services, has been awarded a 3-year contract with Total to provide drilling waste management services in the UKCS.
The project, which commenced in October 2017, will see TWMA provide a tailored drill cuttings management package utilising the company's proprietary TCC RotoMill® thermal processing technology alongside its EfficientC® skip and ship solution, including the newly developed Air Transfer System.
The TCC RotoMill processes drill cuttings to separate the material into its three constituent parts of oil, water and solids. Recovered oil is reused in the drilling process, whilst recovered water and solids are dispersed safely and in accordance with legislation, on location.
TWMA has worked in partnership with Total since 2003, providing unique technically advanced solutions to support the company's operations in the UK, Norway, Angola and other various global locations.
Tony Branch, chief executive officer at TWMA says, "We are proud of our long established relationship with Total which spans more than 14 years. It's extremely encouraging to have been chosen to once again work alongside the team at Total to support its North Sea operations, which is testament to the exceptional service quality we continue to deliver."
"Total's continued investment in complex developments drives the need for a proven technical solution to safely and efficiently manage drill cuttings generated from its drilling operations. This is a fantastic opportunity for TWMA to deliver that solution which also surpasses the necessary requirements for this project. We look forward to continuing our partnership with Total, and we're pleased to further strengthen our position as the leading provider of drilling waste management services," Branch adds.