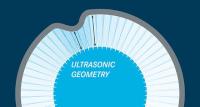 NDT Global, a supplier of inline inspection (ILI) and data analysis, has announced a combined geometry inspection service, Atlas UG, based on Evo Series 1.0 ultrasonic technology. Evo Series is available in a variety of configurations targeting different types of threats, be it cracking (axial or circumferential) or corrosion and metal loss. With the introduction of Atlas UG deformation measurement, a comprehensive inspection can now be completed in a single run.
Accurate identification of combined feature types is possible as ultrasonic technology is used for all measurements, with data fully aligned in a combined inspection. "Combined features such as cracks or corrosion associated with dents represent a special threat to the integrity of pipelines, and better identification provides operators the data needed to safely manage their pipeline assets," comments Andy Bain, COO, NDT Global.
Atlas UG delivers direct ultrasonic measurement of dents with a depth resolution down to 0.1 mm (0.004 in). The use of ultrasonic geometry with overlapping sensor measurements, ensures complete coverage of the pipe wall and this coverage is maintained in bends. The absence of any mechanical calipers ensures that there is no risk of damage to the tool and allows the flexibility to perform bi-directional inspections.