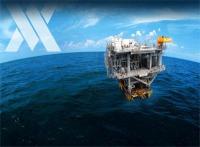 VAALCO Energy, Inc. announced first production from Etame 10-H, the second development well drilled from the newly installed Etame platform, offshore Gabon.
The horizontal development well was drilled to a Measured Depth (MD) of 3,144 meters while intersecting over 180m of high quality reservoir within an oil-bearing portion of the Gamba Sand. Following completion operations, the well was tested at the rate of approximately 3,200 BOPD on a gross basis with negligible amounts of water and no hydrogen sulfide (H2S). The well is currently being produced at approximately 3,000 BOPD.
"We are very pleased with the results from the Etame 10-H well and we are eager to continue our current drilling program offshore Gabon," said Steve Guidry, CEO of VAALCO. "VAALCO has produced over 85 million barrels of oil from the Etame Marin block and, with our two new platforms, we are well positioned to continue to deliver a growing production profile through most of 2015."