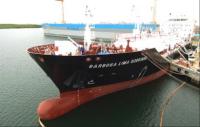 Vard Holdings Limited (VARD) says that the first vessel was delivered from the Group's newest shipyard, Vard Promar in Brazil, on 8 January 2016.
The vessel, a 7,000 m3 fully pressurized Liquefied Petroleum Gas (LPG) carrier, is the second in a series to be delivered to Petrobras Transporte S.A. (Transpetro), and the first to be built entirely at and delivered from Vard Promar.
The delivery marks an important milestone in the development of the new shipyard, and for VARD's operations in Brazil.