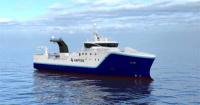 Vard Holdings Limited has secured a new contract for the design and construction of one stern trawler for HAVFISK ASA (HAVFISK). The contract value is approximately NOK 325 million.
The new vessel will be of VARD 8 02 design. With a length of 80 meters and featuring two separate cargo holds for refrigerated and frozen fish, a fish factory and a freezing capacity of 80 tons per 24 hours, the trawler will be the first of its kind.
Developed by Vard Design in Ålesund, the new vessel design reflects a high focus on safe operations, efficiency, cargo handling and the crew's wellbeing. The hull will be built at Vard Braila in Romania. Delivery of the vessel is scheduled from Vard Søviknes in Norway in 1Q 2018.