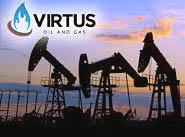 Virtus Oil and Gas Corporation has completed its required onsite well staking for the first #1 well pad and ancillary facilities.
A Notice of Staking has been sent to Bureau of Land Management which serves as the Company's request to schedule an on-site inspection. Upon completion of the on-site inspection, last Wednesday January 14, 2015, Virtus can now submit its Application for Permit to Drill to Utah's Cedar City District Field Office of the BLM.
Concurrently, Virtus is in the process of establishing its Federal Unit, which covers approximately 25,000 net acres within the Parowan Prospect. Federal Units allow operators such as Virtus the ability to explore large acreage blocks, operate the area as a single leasehold, and extend lease terms on the acreage for an additional five years. The Parowan Federal Unit will have a single well drilling commitment within six months of the unit being approved.