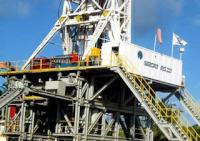 Wentworth has completed drilling operations of the Tembo-1 well and a natural gas discovery has been made in Cretaceous aged sands.
The well was drilled to a total depth of 4,553 meters (4,401 meters True Vertical Depth Sub Sea) and reached TD in Jurassic aged sediments. Petrophysical analysis of the Cretaceous section indicates 11 meters of natural gas net pay.
Natural gas and some condensate was recovered by modular formation dynamics testing (MDT) confirming the petrophysical analysis. The Onshore Rovuma Partners do not plan any further evaluation of the Tembo well at this time but will assess all the data recovered from this well to determine the potential commerciality of this discovery.