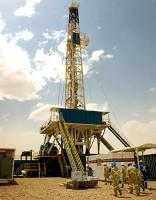 WesternZagros Resources Ltd. is committed to providing timely and accurate information about its business strategy and objectives, financial and operating results, and development plan advancements. In addition to regulatory and materially-driven news releases, the Company invites investors and stakeholders to stay informed of its activity in the Kurdistan Region of Iraq through this newly-initiated status update. This periodic update comes in advance of the Company's standard second quarter results which are scheduled for release on August 13, 2015.
Garmian Block
Second quarter production from the Sarqala-1 well averaged 5,427 barrels of oil per day ("bbl/d). WesternZagros continues, in accordance with the KRG, to supply this production to the domestic market under pre-paid contracts. The Company currently has two domestic customers for its oil production.
The Company is incorporating final comments from the Kurdistan Regional Government (KRG) into its Sarqala Field Development Plan (FDP). Approval of the FDP is expected once the KRG has completed its contractual negotiations to build a natural gas plant to utilize the associated natural gas from the Sarqala field.