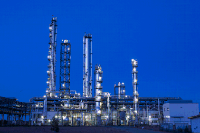 Wison Engineering Ltd., a subsidiary of the Wison Engineering Services Co. Ltd. entered into a contract for the procurement, construction, pre-commissioning and commissioning/ start-up assistance of the core process units, utility and offsite facilities of the Puerto La Cruz Refinery Deep Conversion Project (the ''Project'') in Venezuela with PDVSA Petróleo S.A. ('PDVSA'), on the other hand.
The estimated total consideration for the Project is approximately US$4,837 million, which can be adjusted as a result of changes to certain factors of the Project. Wison Engineering will take up approximately 10.338% of the total work under the Project and therefore will be entitled to approximately US$500 million of the consideration.
Pursuant to the Contract, the Contractor will be responsible for the procurement of equipment and materials, construction, pre-commissioning and commissioning/start-up assistance of the Project. The Contractor will also be responsible for quality assurance of the Project during the warranty period. The Project is expected to commence on 1 February 2015 and is estimated to be completed in 47 months after commencement of work.