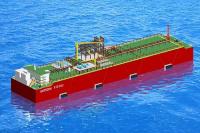 Wison Offshore & Marine Ltd. has announced that it has received Approval in Principle (AIP) from Bureau Veritas (BV) for its newly-developed large-scale Floating LNG Storage and Regasification Terminal. Featuring scalable storage capacity up to equivalent size of a Q-Max, this is the first large-scale FSRU barge design that has been granted AIP by a classification society. It also marks that Wison is now capable of providing comprehensive range of FSRU solutions catering LNG import markets with various scales of demand.
This full-size floating LNG terminal solution offers an economical alternative to the conventional LNG regasification vessels (LNG RV) especially for markets with long-term demand. The barge design lowers initial capital investments (up to 20% compared with LNG RV of equivalent size) as well as O&M costs, while enabling uninterrupted service throughout project lifecycle. David W. Chen, Senior Solution Manager at Wison Offshore & Marine adds, "Wison large-scale FSRU is a fit-for-purpose facility designed with practical operation considerations. It features scalable storage capacity from 150,000 m3 to 265,000 m3 and a base case design of 750 mmscfd regasification capacity expandable to fit project needs. Designed for near-shore/at-shore application, the FSRU can also be deployed offshore with a single point mooring system."
Wison is soon to deliver world's first FSRU barge under an EPC contract and world's first FLNG barge achieved final delivery most recently. While leveraging expertise gained through building floating LNG facilities, Wison is becoming a leader in providing innovative floating solutions for midstream LNG industry by developing full spectrum of products across the supply chain from liquefaction, transportation and distribution, regasification, and gas-to-power.
A month ago, BV granted AIP for Wison's 50MW floating LNG power supply barge (50MW W-FSRP). When commenting on the FSRU AIP, Jiahui Wu, Technical Manager of BV China says, "Based on the excellent cooperation on the 25k Exmar FSRU project currently under execution at Wison shipyard, BV is very pleased to support Wison to further develop this large-scale FSRU design targeting a wider range of international clients. We are glad to work with Wison in bringing innovative solutions enabling more countries to access LNG as a clean and affordable energy."