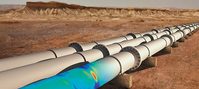 The Kimberlite International Oilfield Research 2017 Pipeline report highlights operators internationally and has ranked NDT Global as the industry leader in ultrasonic tool technology. The report also shows the improvement NDT Global has experienced in its competitive performance over the past two years, resulting in a market share gain and a clear positioning as a premium supplier that delivers superior value.
Kimberlite conducted the worldwide survey of the market for inline inspection (ILI), which it published in July 2017. Based on over 200 interviews with pipeline operator key personnel who are involved in pipeline inspection services, the survey provides the most in-depth reportage on the ILI industry. Kimberlite conducts the survey approximately every 2 years, providing an updated guide to trends in the industry.
The survey, which asked operators to assess supplier performance, saw NDT Global rated ahead of all other suppliers in 7 out of 11 criteria, including field personnel and defect sizing and accuracy. The report also reveals that NDT Global exhibits the highest customer loyalty rating as measured by the Net Promoter Score among the major ILI suppliers.
"We were delighted with the results of the survey, it confirms the improvements we have made in technology and processes," comments Andy Bain, COO. "The results of the loyalty rating are particularly important to us. It demonstrates that pipeline operators who have experienced our service offering are seeing the increased value to their operations and integrity programs."
According to the survey, corrosion remains the biggest challenge pipeline operator's face in maintaining the integrity of their pipeline systems. However, crack detection is the single largest pipeline integrity issue pipeline operators cite as not being adequately addressed by current inspection technologies.
Kimberlite Research reports in a recently published article that, "Ultrasonic crack detection technologies are poised to experience significant growth in the years ahead as more pipeline operators use the technology and experience the benefits in identifying system threat."
The Kimberlite International Oilfield Research 2017 Pipeline report is available at www.kimberliteresearch.com/report