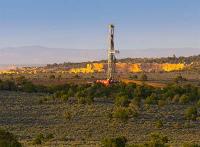 WPX Energy has completed the purchase of another 14,300 net acres in the San Juan Basin's Gallup oil window from an undisclosed seller for approximately $26 million.
The acreage purchase represents an estimated 100 gross drilling locations, boosting WPX's tally in the San Juan Gallup to approximately 500.
WPX now owns or controls approximately 100,000 acres in the core of the Gallup oil window where it has spud more than 100 wells following a successful discovery in early 2013.
Since then, WPX has lowered its drilling times on Gallup wells by 75 percent. The company recently drilled two Gallup wells in less than eight days each. During the second quarter, WPX is averaging 9.8 days per well so far.