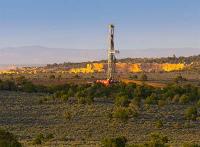 WPX Energy announced a definitive merger agreement to acquire privately held RKI Exploration & Production, LLC for $2.35 billion plus the assumption of $400 million of debt.
The majority of RKI's leasehold is located in Loving County, Texas, and Eddy County, N.M., where the company has four rigs deployed. RKI's liquids-rich assets in the Permian Basin include: •Approximately 22,000 boe/d of existing production - more than half of which is oil •Approximately 92,000 net acres in the core of the Permian's Delaware Basin - approximately 98 percent of which is held by production •More than 3,600 gross risked drilling locations across stacked pay intervals •More than 375 miles of scalable gas gathering and water infrastructure
The acquisition metrics include approximately $1.1 billion for the existing production at $50,000 per flowing barrel, approximately $500 million for the established midstream infrastructure, which equates to an average of $12,500 per acre - or $1.15 billion - for the undeveloped locations.
'This is a transformative opportunity that fits perfectly with our strategy to increase our oil production and high-quality oil inventory,' said Rick Muncrief, WPX president and chief executive officer. 'RKI's asset scale and concentrated acreage position allows for efficient, low-cost, multi-decade development in a world-class oil play.