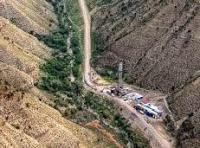 WPX Energy plans to increase its activity in the Williston Basin during the second half of 2015 by resuming completions and increasing its rig count from one to three before year-end.
The decision follows significant process improvements, structural changes to lower costs, successful discussions with key vendors, a technical analysis of WPX's well performance that led to higher estimated ultimate recoveries (EURs) and favorable results from larger stimulations.
WPX has rapidly driven costs out of its Williston operations. The company's estimated drilling and completion costs in the basin are approaching $8 million per well with 6 million pound completions, representing a decrease of more than 30 percent vs. its average in 2014.
The company is now recognizing a blended type curve of approximately 750 Mboe for its wells in the Middle Bakken and Three Forks formations, up 25 percent per well from previous estimates of 600 Mboe. This is based on historical well performance and the success of incremental completion changes WPX performed in late 2014.