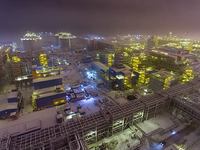 Total has announced that the first cargo of liquefied natural gas (LNG) from Yamal LNG has been prepared to leave Sabetta. This first shipment is a major milestone for Yamal LNG, one of the biggest liquefied natural gas projects in the world. Yamal LNG will produce reserves of 4.6 billion barrels of oil equivalent in Northern Russia. At full capacity, the three-train facility will supply 16.5 million tonnes of LNG per year to Asian and European markets.
"This first LNG cargo is a testament to the tremendous efforts of the project partners, contractors and all parties who managed to deliver Yamal LNG on time and on budget. Together we managed to build from scratch a world-class LNG project in extreme conditions to exploit the vast gas resources of the Yamal peninsula," says Patrick Pouyanné, Chairman and CEO of Total. "This giant project would not have been possible without the power of our partnership with Novatek and displays Total's commitment to Russia. With remarkably low upstream costs, Yamal LNG is one of the world's most competitive LNG projects and it will contribute to the Group's gas production for many years."
Yamal LNG processes natural gas from the giant onshore South Tambey gas and condensate field, located on the Yamal peninsula. The project includes an integrated gas treatment and liquefaction facility with three trains each having a capacity of 5.5 million tonnes per year, storage tanks, port and airport infrastructures. The construction of the first train as well as the logistic facilities was successfully completed with more than 30,000 personnel actively involved on site at peak. The second and third trains will be commissioned in 2018 and 2019 respectively.
Yamal LNG's production is sold under long-term contracts on Asian and European markets, predominantly under oil-index price formulas. LNG will be supplied to the markets all year round through an innovative shipping approach involving a fleet of purposely designed ice-class LNG carriers which will travel the Northern Sea Route to Asia over the Bering Strait during the summer time.
The project is operated by Yamal LNG company, owned by Russian independent gas producer Novatek (50.1%), Total (20%), CNPC (20%) and Silk Road Fund (9.9%).