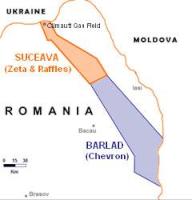 Zeta Petroleum announce that the Jimbolia-100 appraisal well ('Jimbolia-100' or 'the Well'), on the 39%-owned Jimbolia oil concession in Romania, has naturally flowed condensate and gas during production testing of the third and fourth intervals.
The Operator, NIS Petrol SRL, (a wholly owned subsidiary of NIS Gazprom Neft), has advised that the maximum natural flow rates achieved during the co-mingled testing operations on the Well's third and fourth intervals was 21 barrels per day of condensate and 67,435m3/day of gas (containing high levels of CO2).
Preliminary analysis of the combined test results for the Well indicates that the field has an additional gas and condensate reservoir and a separate oil rim below. Testing operations are now complete and the Well has been suspended as the partners agree the forward work programme for the concession.