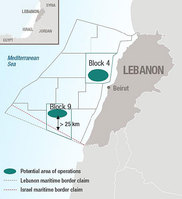 Total-led international consortium (Total 40%, ENI 40%, Novatek 20%) and the government of Lebanon have signed two Exploration and Production Agreements covering Blocks 4 and 9 located offshore Lebanon, in the eastern part of the Mediterranean Sea. These agreements provide for the drilling of at least one well per block in the first 3 years.
"An established player in Lebanon's marketing sector, Total is delighted to expand its presence in the country to the exploration & production segment. These agreements are part of the Group's exploration strategy in the Mediterranean region", states Stéphane Michel, Senior Vice President Middle East/ North Africa, Exploration & Production at Total.
The consortium's priority will be to drill a first exploration well on Block 4 in 2019.
As for Block 9, Total and its partners are fully aware of the Israeli-Lebanese border dispute in the southern part of the block that covers only very limited area (less than 8% of the block's surface). Given that, the main prospects are located more than 25 kilometres from the disputed area, the consortium confirms that the exploration well on Block 9 will have no interference at all with any fields or prospects located south of the border area.
The blocks were awarded to the consortium of Total (operator, 40%), ENI (40%) and Novatek (20%) in the frame of the 1st offshore licensing round, launched by the Lebanese government in January 2017.