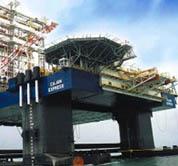 Following the successful drilling campaign offshore Senegal in 2014, FAR Ltd and its joint venture partners ConocoPhillips, Cairn Energy and Petrosen (the Government of Senegal) are planning a first phase work program to evaluate the SNE-1 and FAN-1 discoveries.
The work program includes two wells to appraise the SNE-1 discovery and one exploration well likely to assess a 'shelf' prospect. The program will also include further evaluation of the FAN-1 discoveryand a new 3D seismic survey over a part of the Contract area including a portion of the Sangomar and Rufisque blocks. An evaluation work program will be submitted to the Government of Senegal in May 2015.
The SNE-1 and FAN-1 wells were the first exploration wells to be drilled in the deep water offshore Senegal and were the first to be drilled offshore Senegal for 26 years. As a result, these two wells were highly significant not only because they discovered oil but because they have provided key data to update pre-drill geological models and have given FAR strong encouragement that further exploration drilling could result in more discoveries.