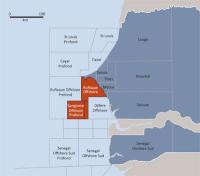 FAR Ltd has made a second oil discovery offshore Senegal in West Africa in the SNE-1 well.
The SNE-1 well has discovered a 95 metre gross oil bearing column with net oil pay zone thickness of 36 metres in Albian aged sandstones which display excellent reservoir potential. High quality 32° API oil has been recovered to the surface.
The SNE-1 well is located in 1,100 metres (m) water depth, approximately 100 kilometres offshore in the Sangomar block with a target total depth of ~3,000 m.
Notices of Discovery for the SNE-1 well and FAN-1 well have been issued to the Government of Senegal.
FAR managing director, Cath Norman, said,'This is another very significant oil find for FAR and Senegal. Based on preliminary estimates it is highly likely to be a commercial discovery.'