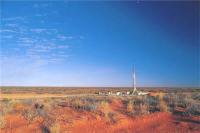 Cooper Energy Limited says that the Bunian-4 appraisal/development well in the Tangai-Sukananti KSO, South Sumatra, Indonesia has reached a total depth of 5,721 feet (1,744 meters).
Wireline logging of the wellbore and installation of production casing is complete and preparations are being made to flow test the well. Preliminary results indicate that Bunian-4 has intersected 17 feet (5.2 meters) of net sand in the TRM3 Sandstone section 56 feet (17 meters) high to prognosis.
The top of the primary target TRM3 Sand was intersected 1,542 feet (470 meters) east-southeast and 20 feet (6 meters) below the producing TRM3 Sand at Bunian-3.
In addition to the successful appraisal of the TRM3 Sand a new zone designated the GRM Sandstone is identified as potentially hydrocarbon bearing. The net sand thickness intersected at the GRM Sandstone is 11 feet (3.5 meters).