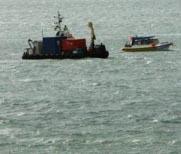 InfraStrata plc is pleased to provide an update on its Islandmagee gas storage project.
In the Company's update announcement on 4 September on the 2015 programme of work, InfraStrata confirmed that following successful drilling of the Islandmagee-1 data gathering well to obtain core samples of the Permian Salt and wireline data, all end of well reports had been finalised and the initial results from the laboratory testing on the cores were encouraging and being used by InfraStrata's engineering team to update the facility design and costs estimates.
Test results on the salt cores and rock mechanics have now been incorporated into the preliminary design of the subsurface and surface facility and cost estimates for the project have been updated.