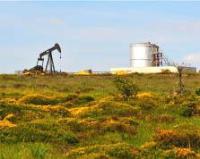 LGO says that airborne survey contractor ARKeX Limited ('ARKeX') has now successfully completed the Full Tensor Gravity Gradiometry ('FTG') survey in Trinidad announced by the Company on 15 January 2015. All the planned data has been gathered and accepted as being within specification.
As reported previously the aircraft commenced flying the gravity and magnetic survey over the entirety of the prospective onshore and near-shore areas of Trinidad in mid-January. The data gathered covers an area of approximately 5,700 square kilometers and has now been transferred to ARKeX's head office in Cambridge, UK where initial data processing is already underway.
LGO has acquired a license to the entire survey and it is expected that the initial processed results will be available within several weeks and will then be used over the coming months in more detailed interpretation work in both the producing Goudron Field and in the Cedros Peninsula where the Company holds approximately 10,900 gross acres of underexplored prospective leases.