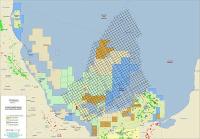 Dolphin has commenced the East Campeche 2D long offset Multi-Client survey in Mexico, utilizing the M/V Artemis Arctic. The licensed approved 19.597 line kilometer survey is well positioned towards the recent Mexican announced 5 year plan for leases and Dolphin will be able to deliver time processed seismic data products in time for the upcoming first Mexican license round.
The survey is supported by industry pre-funding.
Andy Phipps, President Dolphin Western Hemisphere commented ; " Dolphin is very pleased to begin the acquisition of its first survey of this new era in Mexican petroleum exploration. We feel our survey is in a good location to make the most of the licensing rounds that the Mexican authorities have outlined for the next four calendar years "