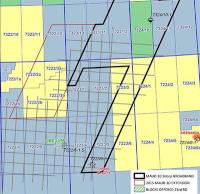 Dolphin Geophysical Multi-Client is pleased to announce that the Maud 3D SHarp Broadband data is now fully processed and ready for delivery. The data covers a significant 23rd Round block on the flank of the Maud Basin, South of the Wisting Discovery. The survey, which is a joint venture between Dolphin Geophysical and Searcher Seismic, has been processed by our in-house processing team at 2ms in an effort to enhance the imaging of shallow structure and the associated petroleum system.
Potential targets lie in structural highs and range from the very shallow Jurassic section, where reservoir quality has been proven to be very good, down through the Snadd, Kobbe and Klappmyss of the Triassic and into the carbonates of the Permian. The Cretaceous section within the basin itself also shows potential as an untested stratigraphic play.
The addition of this dataset to Dolphin's Multi-Client library is the latest of several Multi-Client 3D broadband surveys on the Norwegian Continental Shelf, where the Polar Duchess has been acquiring new data since April.
Dolphin Geophysical's newest vessel, the Polar Empress, has recently acquired a 3D extension to the West of the existing Maud survey, South of the Svalis Dome.