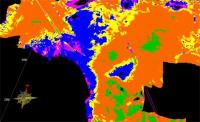 Landmark, a Halliburton business line and a provider of software for the upstream oil and gas industry, and CGG, a global provider of fully integrated geoscience technology and services, announced a geosciences technology collaboration.
The collaboration will allow shared customers to seamlessly access best-in-class interpretation and reservoir characterization technologies and geoscience data from both companies, using the industry's first E&P enterprise class platform; Landmark's DecisionSpace®. A series of unique workflows enabled by the platform will be delivered through connectivity of geoscience applications and data.
As the E&P industry remains challenged to do more with less in the current economic climate, increased efficiencies are derived by better work processes and data. The technology collaboration will significantly enhance existing unconventional and 4D workflows by providing full interoperability of combined capabilities, across the complete lifecycle of the reservoir. This will provide immediate potential to save costs and improve outcomes for our joint customers.