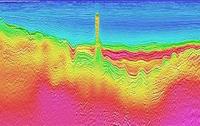 Recovering the remaining and bypassed hydrocarbons in mature areas requires new approaches. A great deal of seismic exploration has taken place within the North Sea, using a variety of acquisition configurations, including the latest broadband solutions such as BroadSeis™. Most surveys in this mature area have been processed and reprocessed multiple times as techniques have evolved; using time migration and now mainly pre-stack depth migration (PSDM).
Within the Central North Sea area alone, CGG's non-proprietary library includes data from 37 acquisition phases (26 main and 11 infill) spanning a 15-year period from 1999 to 2014. Collectively referred to as Cornerstone, this library covers approximately 35,000 km2, including 9,000 km2 with dual azimuth. Multi-client surveys provide a cost-effective means of acquiring high-quality data. Even in relatively mature basins, such as the North Sea, where acreage is shared by many operators, multi-client surveys can be a valuable tool for development.
The majority of seismic projects within the North Sea independently focus on specific small areas, primarily restricted by the high work effort involved in integrating all available data (wells, horizons, vertical seismic profiles, etc.) into the velocity model, combined with the lengthy time scales required to update the model using traditional tomography methods. The development of TomoML, an algorithm for multi-layer tomography, now allows completion of complex PSDM projects within a significantly reduced time scale while simultaneously improving image quality.